Badacsonytördemic
Would you like to recreate in very pretty, quiet and calm surroundings?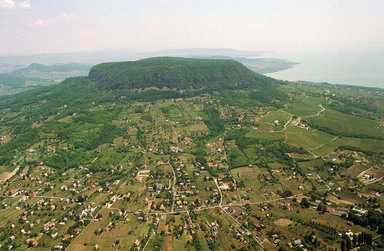 This charming little village, Badacsonytördemic, can be found in one of Hungary's nicest areas, at the bottom of Badacsony hill.
Its beautiful setting and the vicinity of Lake Balaton (2 kms) offer diverse programme opportunities for all seasons. Sport lovers can take part in trekking and hiking; purposefully built bike paths are attracting bikers; horse, boat and sailboat rides; tennis, minigolf, fishing, tasting of excellent wines from Badacsony hill; a wide selection of museums and the unique "stone sea" geological formations in the Káli-medence (Káli basin) are all examples of local attractions. In the preservationist cottage of Salföld, it's possible to make acquaintance with ancient Hungarian animals such as the famous Hungarian grey cattle resistant to BSE, the woolly pig (mangalica) or Buffalos. The thermal baths of Hévíz with curing effects for several illnesses are also attracting many people.
We organise interesting week-end filling programmes once every month. We also offer our help in organising individual programmes.